Syteline Material Requirements Planning (MRP)
Bear in mind that some of the links in this post are affiliate links and we may earn money or products from the companies mentioned in this post. You won't pay any additional costs. The decision is yours, and whether or not you decide to buy something is completely up to you..
Infor SyteLine Material Requirements Planning (MRP) assists a business in managing the balance between supply and demand. MRP has really stood the test of time and can produce excellent results.
If you've had an unsuccessful experience with MRP I'm going to venture to say you've fell into at least one of the following groups:
MRP system wasn't configured properly

You have business processes which aren't aligned for MRP

The adoption rate for MRP in your organization was low
MRP can have an incredible impact within a business when the decision is made to adopt and education on the MRP concept. At the end of the day MRP is a control system and if we choose to operate outside of these controls…success will not be achieved.
MRP Overview
What are the components for MRP success?
Management commitment

Engaged team

Education

Accurate data; Customer Orders, BOMs, Inventory, Lead Times, etc.
Why do MRP Implementations fall short of their full potential?
Lack of engagement

Education falls short of needs or expectations

Lack of proper configuration
Syteline Material Requirements Planning (MRP) works by planning backwards from the current date to calculate a "Release Date" The Release Date is the date you need to take action in order to meet the date the material is needed.
MRP begins with a schedule for finished goods that is converted into a schedule of requirements.
In MRP terms, finished goods are classified as "Independent Demands"
Independent Demands are driven by customer orders, transfer orders, etc.
These requirements are for sub assemblies, component parts, and raw materials needed to produce the finished items in the specified time frame.
In MRP terms, components or materials are classified as "Dependent Demands"
Dependent Demands are driven by higher level MRP demands, such as Independent Demands/finished goods.
Syteline Material Requirements Planning (MRP) breaks down inventory requirements into planning periods so that production can be completed in a timely manner while inventory levels and related carrying costs are kept to a minimum. Implemented and used properly, it can help production managers and procurement plan to meet customer demands.
MRP does not consider routings/operations, capacity, or shifts. When we mention BOMs we're generally speaking about the Materials side of your BOMs.
MRP Highlights:
Not just a manufacturing system

Method of balancing Supply & Demand

Performs complex calculations to make suggestions toward an accurate plan

Very sensitive to data

Requires data maintenance

Needs to reflect business as closely as possible

Minimize costs

Maximize cash flow

Improve continuous flow manufacturing

Backwards plans
MRP is designed to answer three questions:
What is needed?

How much is needed?

When is it needed?
How to turn on Syteline Material Requirements Planning (MRP)
Open the MRP Mode Form

Select the Use MRP Planning checkbox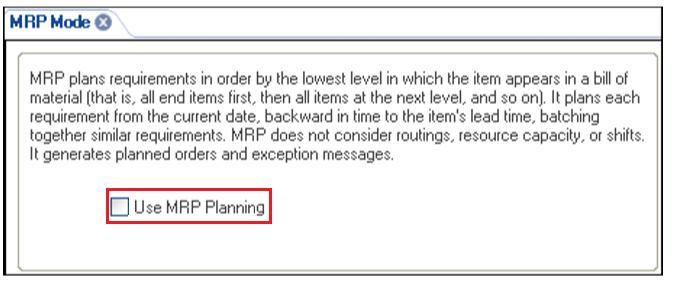 Items Form
The Syteline Material Requirements Planning (MRP) system uses the below Item Form key fields:
U/M – MRP will plan in this increment

Type – MRP will plan all types, except "Other"

Source – Determines what MRP Planned Orders will be created during the Firming function

Purchased

Manufactured

Transferred

Low Level – This represents the lowest level an item exists in any current, job, or production BOM. A low level code of 0 indicates this is a finished good

Planner Code – Used to filter when using various Syteline Material Requirements Planning (MRP tools and reports

Net Change – When this is selected the MRP data for this item might be inaccurate due to changes

Production Type – Determines how the production order should be firmed from the planning order

Order Minimum – MRP will create an order for at least this quantity

Order Multiple – Used when you need to place order for boxed quantities

Paper Work Lead Time – This is the time needed to enter/process paperwork related to entering an order. This time is added to the lead  time of the MRP plan resulting in an adjusted Release Date

Fixed Lead Time – If an item is purchased this is the number of days from entering an order to when if arrives at the dock

Dock to Stock Lead Time – The days it takes to process materials until they are ready for consumption

Variable Lead Time – Defined in hours; used when MRP backwards plan to calculate a Release Date

Days Supply – Defined in days to consolidate multiple demands into a single order
As you can see the Items Form has many item parameters to configure. These will have a significant impact on the accuracy and relevance of your MRP plan.
Perform your due diligence and get these "dialed-in", it's going to be worth the time.
Manufacturing Days Calendar (MDAY Calendar)
The Manufacturing Days Calendar is used to define the valid manufacturing days when executing the below processes. The MDAY Calendar is important for the accuracy of the MRP plan. We only want valid manufacturing days to be used when calculating MRP Dates.
The Manufacturing Days Calendar reads the DCS shift to determine the valid manufacturing days.
The DCS shift is defined on the Scheduling Shift Form. Changes made to the DCS shift will update the valid manufacturing days on the Manufacturing Days Calendar.
The following processes depend on the Manufacturing Days Calendar for accurate execution and reporting
MRP

MPS Processor

Material Availability Report

Material Planner Workbench
Bill of Materials (Materials)
Syteline Material Requirements Planning (MRP) uses the BOM (Materials) to know which components are required to make any given manufactured item. Accurate BOMs data is mandatory for successful use of MRP.
Key BOM (Materials) fields:
Quantity – The U/M of the material required per unit

Per (Lot / Unit) – The quantity per unit or lot

The Per field indicates if the quantity needed for manufacturing is per unit or per lot. MRP will plan for this quantity per Job Order or Production Schedule release

Scrap Factor – The scrap percentage represented as a decimal value of the material scrap expected during the manufacturing process. You can configure MRP to extend material requirements by this value.
There aren't many key MRP fields on the BOM (Materials) form, but it's critical these are accurate and all required materials are listed. 
Planning Parameters
The Planning Parameters form is the primary area to configure site wide Syteline Material Requirements Planning (MRP) parameters. There are many parameters, so we're going to point our the key ones.
Use CO or Forecast – This determines if Customer Orders, Forecasts, or Both are used to plan "Independent Requirements"

Forecast Look Ahead/Behind – When a Customer Order is entered, the planning system starts at the Customer Order item due date.  MRP processing will look Behind the specified number of valid manufacturing days to find a forecast to consume. If a forecast isn't found MRP will look the specified number of valid manufacturing Ahead.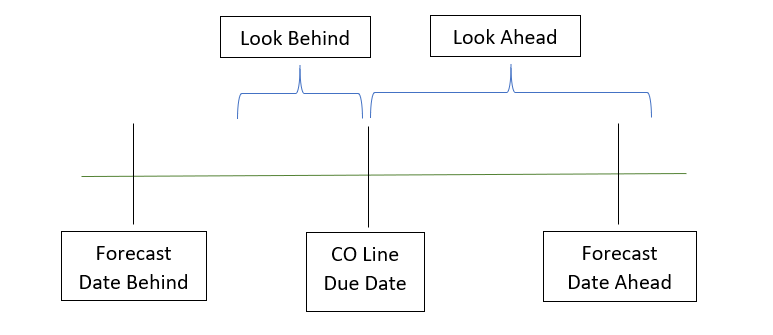 MDAY Start/End – Defines the time-frame of your valid manufacturing days, as defined on the DCS & Manufacturing Days Calendar

Use Scheduled Times in Planning – This option aligns your MRP dates with the dates the Syteline Scheduling engine calculates. 

Plan Materials at Operation Start – This option will plan for materials to arrive at the beginning of independent operations, rather than having all materials available at the start of the production job.

Apply Scrap Factor – Is this option is enabled the Scrap Factor on the BOM (Materials) will be considered in MRP requirements
Exception Message Priorities
Exception messages are an important element of the Syteline Material Requirements Planning (MRP) system, The Exception Message Priorities Form allows you to define which exception messages are most important to your planning workflow.
The lower the number the higher the priority.
Exception Messages:
Add MPS Order

X-Ref Receipt Qty

X-Ref Receipt Resched

Date Outside Shop Calendar

Expedited 999 Days

Initial Quantity On Hand Negative

Move in Receipt

Move in Receipt (Tol)

Move Out Receipt

On Hand Below Safety Stock

Receipt Not Needed

Release MPS Order

Rcpt Projected Late

Rqmt Projected Late
Once these priorities are defined you can filter by these priorities when using the Exceptions Report
Exceptions Report: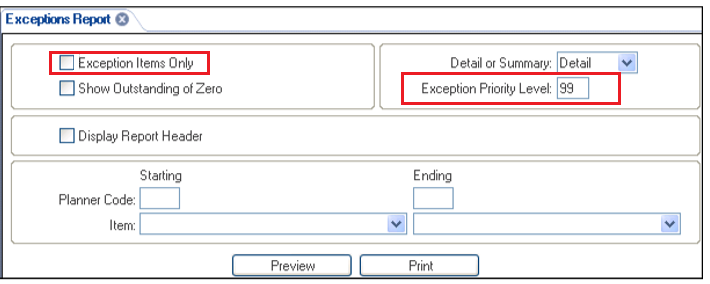 Item/Warehouse Form – Safety Stock
Safety Stock – This is the amount of inventory to keep as a buffer for period where sales are greater than forecast amounts.
It's important to understand safety stocks are not stocking levels. The purpose of safety stocks are:
Protect against variations in supply and demand

Allow for continuous manufacturing

Compensate when sales is greater than forecast amount

Avoid stock outs to meet customer satisfaction
There are many calculations you can use to determine your item safety stock levels. The concept behind a safety stock level is to calculate the appropriate level so when you outperform your forecast your safety stock will sustain you until you can replenish inventory.
The critical element of safety stocks levels are to make sure your safety stock level carries you through the entire lead time(s) to replenish the inventory. To accomplish this we need to determine several data points and collectively these will provide us with our safety stock level.
To calculate safety stock levels we need to break down the standard deviations of the lead times.
Note:    Calculating safety stock levels should be based on data,

not

a guess
Calculating Purchasing Item Lead Time(s)
The total time it takes between submitting a purchase req, approval times, contacting vendors, delivery time, quality inspection time, production and receiving time until ready for consumption.
When we evaluate actual lead time we need to determine the standard deviation to account for fluctuations. See below for this process.

As you can see, the above table is broken down into: Order, Source, Expected Lead Time, Actual Lead Time, and Variance.
The Expected Lead Time is the expected lead time for the delivery of the item.
The Actual Lead Time is the real time it took to replenish each order in the example provided.
The variance column is the difference between actual time and the expected time.
When we review the variance we can see positive variances are "unfavorable", since this indicates it took longer than expected. With this information we can now calculate the standard deviation.

As we can see in the example above our standard deviation over the last 6 order was 1.66. With this we can calculate our adjusted lead time to use as a data point in our safety stock level. In our example this equals 9.66
Calculating Demands
To calculate demand average, you have to begin by determining the time period you want to calculate. I prefer to start with weekly demands to see how the model trends.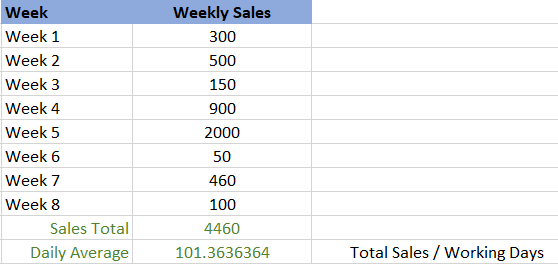 In the above example we totaled 4460 over 8 weeks and we assumed 22 working days, This equaled 101 units per day,
Now that we have these 2 data points we can calculate a safety stock level.
Calculating Service Level
The higher the service level the more safety stock you need to carry. You need to consider the cost of stock outs and carrying costs when determining service levels.
The higher the service level, the higher the inventory costs will be, so make sure your service levels are realistic and meet you business needs.
In order to convert your desired service level into a more concise value, you will need to uke suse a normal distribution chart.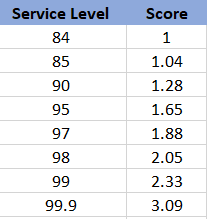 In our example to maintain a service level of 90% your service factor will be 01.28. This number will serve as your service factor, or (Z-Score), in the equation.
Calculating Safety Stock Level
At a 90% service level if will look like this…
Safety Stock:  01.28 × 9.6 days × 101 units = 1,241
At a 95% service level if will look like this…
Safety Stock:  01.65 × 9.6 days × 101 units = 1,599
Note:
The Service Level isn't an On-Time Shipment ratio, it's a value to to determine a variable in the safety stock calculation.
Safety stocks are not limited to raw materials or components. You can use the similar concepts to align safety stocks to finished goods. If you do have safety stocks defined on finished goods, it will drive raw materials requirements for materials or components.
It's not always necessary to have safety stocks on both finished goods and materials or components.
Wrap-Up
This article covered the key fields required to configure the Syteline Material Requirements Planning (MRP) system. We also went into some detail about the process to calculate safety stocks
MRP is a significant topic and can have a tremendous impact on a business.
We'll be publishing several more articles related to Syteline Material Requirements Planning (MRP) in the near future.
If you have specific topics or questions, drop me an email – info@rssbusinessresources.com
Also, check out our Blog
Ron M.
MRP & Syteline Expert